What if you could actually ENJOY being a
SENSITIVE
,
HEART CENTERED
person and still
THRIVE
as the Divinely connected
INTUITIVE
you were born to be?


MAYBE YOU. . .

* Have a hard time setting boundaries because you hate conflict
* Notice your emotions are easily influenced by your environment or other people's moods
* Naturally love to help others but crave alone time to recharge
*
Know you're an intuitive badass but afraid to live a life no one understands
* Are tired of stifling what you KNOW because it appears too "woo woo"
If that sounds like you...
CONGRATULATIONS
!
You're a sensitive and beautiful Empath!
EMPATH (noun)
1) One who has the ability to sense emotions; someone who is empathic or practices empathy.
2) A person with extra-sensoryempathic ability, capable of sensing the emotions of others around them in a way unexplained by conventional science and psychology.
But...you probably could use support being in your power.
This is
totally possible
for you!
It's your
birthright
and
you are worthy
.


But
...
I KNOW YOU MIGHT HAVE DOUBTS LIKE...


How can I step out of my comfort zone without getting energetically bulldozed?
I'm usually so overwhelmed I don't know if I can do this myself.
I'm so used to downplaying my Intuition, won't it be weird to start trusting it?
What if people think I'm crazy?


I already practice self care, why do I need this course?
What if I'm a little scared of what being in my power looks like?
How will I actually know when I'm receiving Higher Guidance?
I've been exactly where you are…
….And I
know how you feel
. 


I was an
anxious and overwhelmed
Empath who just wanted to
feel good
in her skin
, honor my Intuition
, and
experience a vibrant life
. 
DO YOU KNOW WHAT *REALLY* HAPPENED?
I ended up getting more
frustrated
and
disempowered
than before.
None of the quick solutions worked.


Over years of trial and error,
I FINALLY figured out
!
The EMPOWERD EMPATH Curriculum: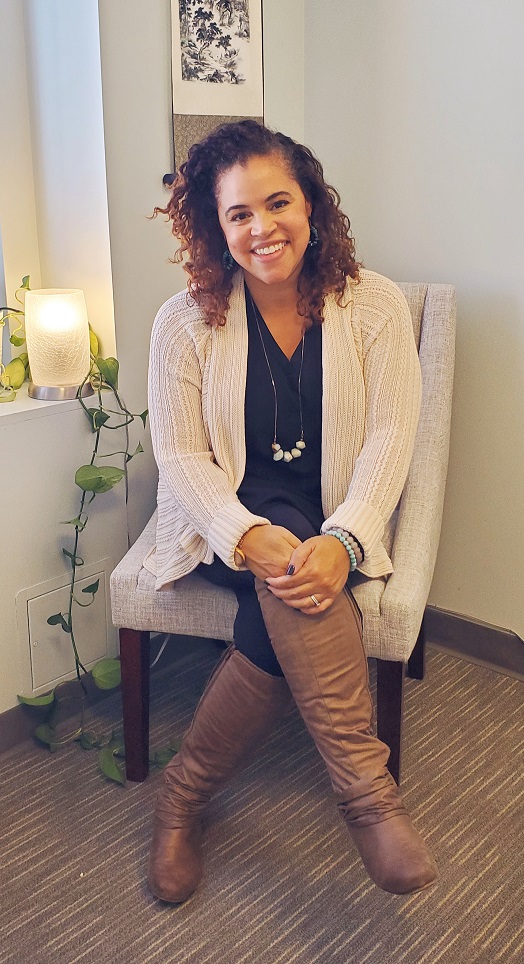 Hi, I'm Claretha!
I'm a Doctor of Acupuncture and Chinese Medicine, Licensed Acupuncturist, Reiki Master/Teacher, Intuitive Empath, and Soul Alignment Mentor for Empaths.
I've been there... overwhelmed, anxious, and frustrated. But understanding how to wield my energy, getting to know my Higher Self, and trusting my Divine intuition changed everything.
Since 2013 I've been supporting others with holistic healing and guidance. I know how amazing it feels to shift your life using easy energetic and spiritual practices. 
Now I've turned the foundational practices and insight I've learned along my journey into a step by step course so more Lightworkers and Empaths can reclaim knowledge of how amazingly unique and powerful they truly are.
Time to call your power back, loves. The world needs you!
You have a
beautiful heart
! And
you deserve to experience more ease, joy,
and
magic
navigating your life. 
Empowered Empath is a
self paced course with a blueprint
to take you from being
a cautious, doubtful,
and
sensitive Intuitive…
To…


Using your
Auric field
to Support You
Energetically Clearing
your
Body
and Living
Spaces
Setting Up
Energetic Protection Daily
Connecting
to Your
Higher Self
Trusting
Your
Intuition
Utilizing your Natural
Clairsenses
to Navigate Everyday Life
Receiving Clear
Signs
from your
Guides
&
Team of Light
Feeling
Safe
and
Sovereign
inside your own Body
"
Empowered Empath is a beautiful program of self discovery. It's paced in a way for you to build confidence in everything that you are...and everything that you are meant to be. Lifechanging!
~ Diane S.
"
"
I felt so alone prior to joining Empowered Empath and didn't have anyone in my circle to talk about my experiences. Claretha's guidance was just what I needed to get centered in myself. This course contained a breadth of knowledge that I was able to incorporate in my daily life. Best investment I've made in myself.
~ Latrice M.
"
Imagine the possibilities of what your life would feel like* after completing Empowered Empath...
Commanding your personal energy field with authority and
feeling free
and
at ease to go where you heart desires
?


Using your discernment and
protecting yourself
from the
energy vampires
and narcissists.


Savoring the experience of
trusting your intuition
and having life
magically
unfold in front of you
step by step


Living a
vibrant, curated-perfectly-for-you, kind of life
fueled by your connection to the Divine parts of yourself
and
knowing you can never "get it wrong"


Untethered
by
the anxiety, worry, and doubt of the future
because you know deep in your heart that nothing is set in stone,
you can't ever "get it wrong"
, and you can
course-correct at anytime
. 


The ultimate
relief
and
satisfaction
knowing that
you can truly create your own reality
and it starts from the inside out. 


Integrating all parts of yourself and
feeling unstoppable
in what you can do and who you can be!
*Assuming you do the work

FAQs
Q: I'm very busy, does this take up a lot time?
A: Great question! This course is meant to be easy, flexible, and fun for you. You can consume the modules at your own pace. Most videos are about 20 minutes and I encourage you to dedicate time each week so your faith and trust in yourself continues to build. And don't forget you have forever access to the course too, so you really have plenty of time!
Q: Can't I read all this in a book or find it information online?
A: Probably. The interwebs has LOTS of answers and information. But, I've outlined this course to jumpstart your remembrance. This course is designed for you as you awaken into a larger perspective of who you are. You will have a private Facebook community to support you and you can ask me all your questions there. It's a beautiful process to help you transform and expand your mind, body, heart, and spirit…Google can't provide that.
Q: Does this course offer 1-1 with you?
A: There is a private Facebook group where I'm available to answer all your questions and provide support M-F.
Q: Can this guarantee results?
A: Your essence is the magic bullet here! This is your opportunity to claim self responsibility, show up for yourself, invest in yourself, and be willing to do the work. I can say without hesitation if you do show up and do the inner work, transformation is inevitable. I don't want to waste your time but the only one who can do this sacred work…is YOU!
Q: What if I want a refund?
A: Due to the digital nature of the course (and my confidence that you will love it), no refunds will be issued under any circumstance. Please make sure the course feels aligned with your goals before enrolling.
More questions?
No problem! Send me an message HERE and we'll get to the bottom of it!
"
The course was tremendously helpful to me as it answered many questions I didn't feel comfortable asking. It gave me a clearer view of the wall I had locked myself behind at the opinions of others that knew less than I did. A lot of the material was good information for me, a lot of which had been labeled taboo, and in the past I was afraid to peer into.
Claretha's way of explaining made it very comfortable for me to take back my power.
~ Annetta L.
"
You're not "too sensitive". Your soft heart is exactly what this world needs.


Somewhere inside, you feel on the edge of remembrance.
You're ready to have a deeper experience of your WHOLE self and learn to create a life of joy, ease, and magic...from the inside. out.
Reclaim Your Power. Your Sovereignty Awaits...